The Flamenco Guitar
◊ Back to Features
---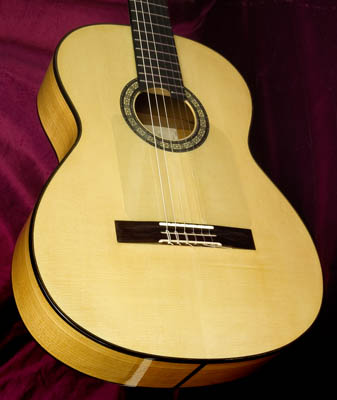 Flamenco guitars have much in common with the modern classical guitar. Both share a common history and similar construction techinques. The flamenco however, has a slightly smaller body with a different sound and playing action. Antonio de Torres is often given credit for developing the flamenco guitar in the 1850's, although controversy does exist on this point†.
The flamenco guitar is traditionally built using Spanish cypress for the sides and back, with a spruce top. The Prenkert flamenco is built with a local wood — Monterey cypress which grows on the west coast of California. Being lighter than the rosewood used in classical guitars, cypress gives the flamenco a bright, precussive sound.
Originally, the flamenco guitar was fitted with wooden tuning pegs, while most modern flamencos now use gears. As shown in the photos, this instrument is fitted with transparent plastic tap plates called "golpeadors" — these protect the body of the guitar from players' rhythmic finger taps, or golpes.
My emphasis on volume is a perfect fit for the flamenco guitar, since it is traditionally accompanied by the loud tapping of nailed dancing shoes.
Contact me for further information. You may click on the thumbnails below for full sized images of this Flamenco.
---
---
---
◊ Back to Features